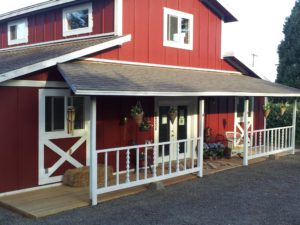 A family Owned u-pick fruit orchard. Your source for Oregon's finest Peaches, Apples, and Pears. We also have honey from our own bees.
Home of the UPick Friendly "Short Orchard."
We are a home based business growing delicious varieties of Peaches, Pears and Apples. We have introduced the "short orchard" to the Willamette valley. Come pick our amazing fruit with both feet firmly planted on the ground. No ladders are needed in our family friendly "short orchard". The fruit is close enough to the ground that kids can help harvest.  See our Product pages for specific varieties and ripening schedules.
Closed until the 2017 U-Pick Season

---
We had a great harvest this year and have enjoyed seeing our friends in the orchard.  We hope you had an enjoyable time coming as well.  We will be closed until next summer.  We hope to see you again then.  Have a great winter season.

Lloyd & Annette Bell
See you at the Red Barn…………..Next summer!
We look forward to seeing you in the orchard next season.